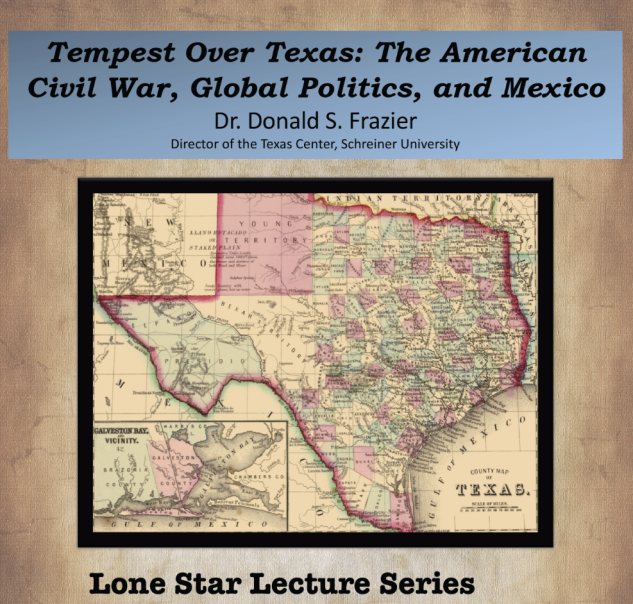 The Angelo State University history department held their first annual Lone Star Lecture featuring inaugural speaker Dr. Donald S. Frazier on March 9.
Titled "Tempest Over Texas: The American Civil War, Global Politics, and Mexico," Frazier's keynote address focused on a few campaigns in Texas and Louisiana and their role in the Civil War and the French Intervention in Mexico. Frazier said that Texas's role in the Civil War is not as noted as other conflicts during the time and presented portions of the state's historical role.
With information about the Trans-Mississippi Theater, France's failed takeover of Mexico, the First Texas Cavalry, General Thomas Green (of whom Tom Green county is named after) and more, Frazier painted a picture of Texas' involvement in the Civil War.
Frazier is the director of the Texas Center at Schreiner University in Kerrville and an award-winning author of six books on the Civil War. He has taught at Texas Christian University, McMurry University and Schreiner University. He also works at Civil War and frontier heritage trails in Texas, New Mexico and Louisiana and has worked on historical projects in Europe and Mexico.
Frazier helped design the Frontier Texas! Museum in Abilene and wrote and directed "Our Home, Our Right: Texas and Texans in the Civil War," a video that won the Mitchell Wilder Award for Excellence in Publications and Media Design from the Texas Association of Museums. He is also an elected member of the Philosophical Society of Texas, a fellow of the Texas State Historical Association and a director-scholar on the board of the Texas Historical Foundation. Additionally, he is an adviser to the Alamo and the State Board of Education and served in the advisory committee for the Texas 1836 Project.
According to Dr. Michael Powers, the event's manager, the Lone Star Lecture series aims to bring outside scholars who have studied Texas history to Angelo State to teach students and demonstrate the fields and careers students can pursue.
"The history department has a host of lectures and events – ranging from academic to social gatherings – that foster student engagement," Powers said. He also said that he hopes the Lone Star Lecture series will connect history students and professors with its guest speakers over the years. 
The history department plans to host a lecture in early March each year to coincide with the anniversary of Texas' independence and engage with Angelo State University's department of history as well as ASU students and the greater Concho Valley.