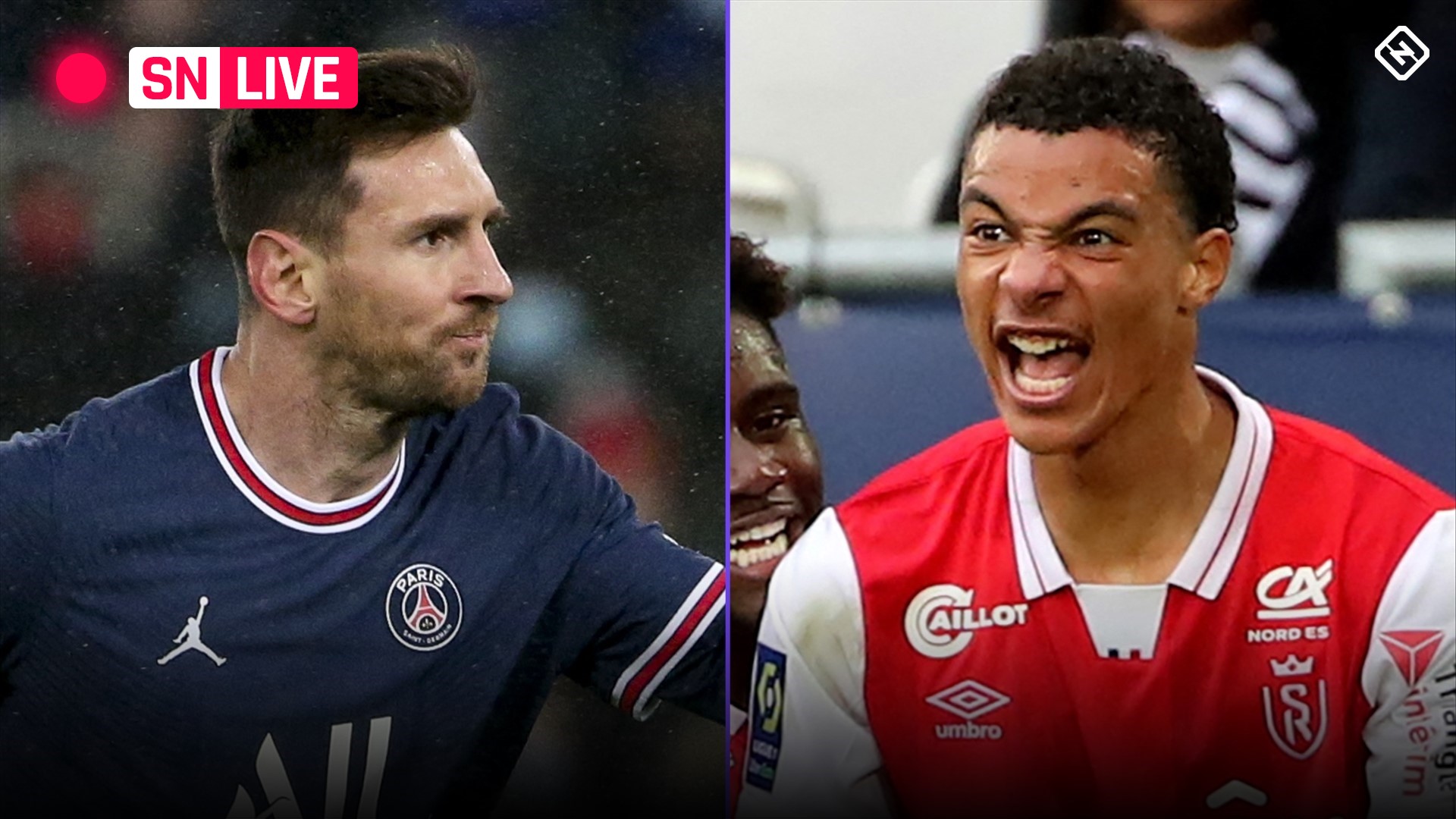 Lionel Messi was expected to make his long-awaited return to the PSG lineup on Sunday after finally recovering from his battle with COVID-19, and teammate Kylian Mbappe was thought to be a doubt. Little do we know.
Messi is only able to make the bench, but Mbappe starts as PSG hosts Stade de Reims at Parc des Princes in Ligue 1 play.
Mbappe, fresh off his advice from Zlatan Ibrahimovic to join Real Madrid this coming summer, had suffered a groin injury was is questionable to take part in the match, but it's Messi who still is not yet fit for the starting lineup. Still, the Argentine could see time off the bench as Mauricio Pochettino gets the former Barcelona star back to full strength.
PSG (first, 50 points) will look to recapture its best Ligue 1 form ahead of the Champions League knockout stage in mid-February. The French giants won their first eight league matches of the season in a row, and 13 of their first 15. They have drawn four of their last six. Mauricio Pochettino's defense has also faltered of late, having conceded a goal in seven of their last nine, including two to 19th-placed Bordeaux and one each to 18th-placed Lorient and bottom-feeder Saint-Etienne.
MORE: When is Neymar expected back for PSG?
Getting all three of Messi, Mbappe, and Neymar on the field together this season has been a nightmare. Neymar has been out since late November with a bad ankle injury and isn't expected back in training for another few weeks. Messi has been missing since contracting COVID-19 over the winter break in Argentina, and his recovery left him sidelined for "longer than I thought." Mbappe to this point had avoided injury troubles this season.
Reims (14th, 24 points), meanwhile, has been solid since the start of December, with just two losses in that period. But a 1-0 defeat to 18th-placed Metz last time out feels like a rally killer. Still, this is a dangerous side that has beaten Lyon and drawn with second-placed Marseille this season, so the Red & Whites won't back down.
Sporting News will follow the match live and provide score updates, commentary and highlights as they happen.
PSG vs. Reims live score
| | | | |
| --- | --- | --- | --- |
|   | 1H | 2H | Final |
| Paris Saint-Germain | 1 | — | — |
| Stade de Reims | 0 | — | — |
Goals:
44th minute – PSG – Marco Verratti
(All times Eastern)
HALFTIME: PSG 1-0 Reims
An otherwise perfect first half for Reims comes undone just moments before the halftime whistle. Oscar Garcia's squad had done extremely well to lock down PSG and force the hosts back despite a heavy possessional advantage. They were unlocked on a chance that didn't seem terribly dangerous, but Rajkovic was beaten at his near post and conceded a goal to an unlikely source.
There's still more from this, as Reims can threaten if they come out of their shell, with Ekitike playing his usual part, and now the visitors will need to think about pushing a little more forward. They'll want to strike soon, as Lionel Messi looms on the PSG bench.
PSG brought Sergio Ramos in for his passing ability, and he's been heavily involved in the build-up play, with only the two CM's Parades and Verratti delivering more passes.
Sergio Ramos está jugando a la izquierda de Marquinhos. La pelota pasa mucho por él (54 pases en la 1ª parte, sólo Verratti y Paredes dieron más).

Y en defensa, va siempre a anticipar para retardar los ataques rivales y evitar correr hacia su portería en desventaja #Ligue1

— Fernando Evangelio (@ferevangelio) January 23, 2022
44th minute: GOAL! PSG! The best moment of the match for PSG comes via a fortunate deflection from deep, and the hosts take advantage. The deflected entry pass falls right at the feet of Mauro Icardi, and with his back to goal he pokes it to Verratti who desposits the chance. It's not a good look for the goalkeeper Rajkovic who is beaten from a decent distance at his near post.
It's Verratti's first PSG goal in any competition since 2019, and 1,723 days since he last scored in league play. A gutting way for Reims to finish what was otherwise a promising first half.
34th minute: Marco Verratti is tackled by the Parc des Princes pitch, going down hard with nobody near him, and the crowd has a collective chuckle. The Italian gets up with egg on his face.
32nd minute: Chance, PSG! Marco Verratti lays it off to Mbappe from a tight angle on the left, but he rifles it within range of Pedrag Rajkovic who kick-saves. That's a good chance and a poor finish, and Mbappe's reaction – putting his shirt up over his face – confirms he feels the same.
27th minute: Chance, Reims! Hugo Ekitike does well to get free on the left, and he finds Bradley Locko at the top of the 18-yard box, but his shot is right at PSG goalkeeper Keylor Navas, who holds to his chest. It's a poor finish, but the chance was better than anything PSG has developed so far with 68% possession. Locko could have put that anywhere else and at least made Navas work for his save.
24th minute: A pair of corners by PSG, and while the first is well-defended by Faes, the second goes close off the head of Danilo, but goes over the top.
Down the other end, Ekitike gives Sergio Ramos a nice, clear shove, which is a chuckle-inducing dose of the Spaniard's own medicine.
22nd minute: Great point by BeIN commentator Phil Schoen, who mentions that sometimes Mbappe tries to do too much in moments where he can just be a teammate. "You don't have to be a superstar on every play." He does sometimes look to be a world-class player with every touch. It hasn't come together for him just yet today.
16th minute: PSG gets the ball to the doorstep, but a sliding clearance by Reims gets it from danger. This is a sleepy open since the very early Mbappe shot.
11th minute: A pair of brutal fouls by Reims. Mbappe is hacked by Faes who gets a talking to from the referee, and before the official can get to his whistle, Leandro Paredes is then thumped by another Reims midfielder. Both are down in pain. Free-kick from a mildly dangerous position for PSG, straightaway on frame…nothing. PSG has had lots of possession, and very little to do with it.
8th minute: Reims nearly had a clean counter thanks to a slicing through ball, but the offside flag is up to kill the chance. It's very tight, but the right call.
5th minute: One player to watch on Reims is 22-year-old midfielder Jens Cajuste, who was recruited by the USMNT but chose to represent Sweden. He has been involved early on both on the ball and in defensive cover.
Mbappe continues to be a PSG focal point as well, with a nice turn almost unlocking Reims before he's taken off the ball.
2nd minute: If Kylian Mbappe is struggling with a groin injury, it's not showing here early. He has an early rip that shanks just wide right. The shot has a ton of bend on it, but that does more harm than good here. Figure to see a lot of that throughout the 90 minutes.
1st minute: We're under way at Parc des Princes!
2:26 p.m.: Mauricio Pochettino tells local television in his pre-match hit that Lionel Messi is very likely to make an appearance in the second-half, hoping to get him back to full fitness after his COVID-19 layoff.
1:50 p.m.: Lineups are in. Messi not named in the PSG starting lineup, Mbappe is, very unexpected to what we thought 24 hours ago. Messi does make the bench and still could feature. PSG does indeed also have Sergio Ramos in the lineup, as previously reported.
Reims looks to be in a back three, and Ekitike does indeed start up top, supported by teenage winger Nathaniel Mbuku.
1:15 p.m.:  PSG kits have names in Chinese to celebrate the Chinese New Year.
1:02 p.m.:  RMS Sport reporting that both Kylian Mbappe and Sergio Ramos are fit to start in the match. Big boost for PSG and a bigger climb for Reims.
?? Selon nos informations, Kylian Mbappé et Sergio Ramos seront titulaires contre Reims. Mais Lionel Messi débutera la rencontre sur le banc des remplaçants.

— RMC Sport (@RMCsport) January 23, 2022
12:50 p.m.: PSG gets its final training session in before the Reims match.
12:45 p.m.: Real Madrid striker Karim Benzema, who spent years locked in a rivalry with Lionel Messi during his Barcelona days, has come out strong in support of the PSG star ahead of his return from COVID-19. It's a strong statement of support for a former bitter rival.
Karim Benzema on Lionel Messi: "He needs time to adapt at PSG. Look at what he does on a pitch. In any case, you can't criticise a player like that. In fact, whoever criticises Messi knows nothing about football." This via Telefoot.

— Roy Nemer (@RoyNemer) January 23, 2022
PSG vs. Reims lineups
PSG is far from full strength as it continues to build towards Champions League play in mid-February. Messi was expected to spearhead the PSG attack from the start, finally back from his bout with COVID-19, but he could only make the bench in his return. Mbappe starts despite reports over the last 48 hours regarding a recent groin problem. Neymar isn't expected to return to training from his ankle injury for another week or two, leaving the possibility that two of the three-headed monster could again be missing from action.
Abdou Diallo , Achraf Hakimi and Idrissa Gueye are all away on AFCON duty (and are performing well, which hopefully will translate back to good club form once they return). Juan Bernat remains out with after-effects of COVID-19 lingering, and Georginio Wijnaldum is also sidelined thanks to a recent ankle injury that will keep him out for at least two more weeks.
Goalkeeper Sergio Rico departed the club for Mallorca, despite making the bench last time out. Keylor Navas is fit to return from his one-match injury absence, meaning he could see the field as it's past his turn in the goalkeeping platoon with Gianluigi Donnarumma. It's a timely return for Navas, as Donnarumma has been shelved at the last minute with a calf problem, leaving 19-year-old Denis Franchi as the backup for today's match.
PSG starting lineup (4-3-3): Navas (GK) — Kehrer, Marquinhos, Ramos, Mendes – Danilo, Peredes, Verratti – Di Maria, Icardi, Mbappe.
PSG subs (9): Franchi (GK), Dagba, Kimpembe, Herrera, Dina Ebimbe, Draxler, Michut, Simons, Messi.
For Reims, Ghislain Konan , Moussa Doumbia and El Bilal Toure are all on AFCON duty and have all qualified for the knockout stage, confirming their absences for some time longer. But Moreto Cassama's Guinea-Bissau was eliminated and he makes it back for the match, named among the substitutes.
The mid-table side is extremely short on midfielders, thanks to injuries to Valon Berisha , Marshall Munetsi, and Arber Zeneli. That means newly signed Jens Cajuste makes his second straight start, although he'll hope it goes better than his debut, which saw him yanked by Oscar Garcia at the halftime break of the eventual loss to Metz. It was believed that Azor Matusiwa would miss out with a muscle injury, but he is named in the starting lineup.
MORE: Premier League standings & table races
Hugo Ekitike is back from suspension and will likely get the start up top despite links to the Premier League. They will need his in-form services badly, as Reims has been shut out in each of its last four matches against PSG in all competitions, outscored 11-0. He is supported by 19-year-old Nathaniel Mbuku up front.
Reims starting lineup (3-5-2): Rajkovic (GK) – Gravillon, Abdelhamid, Faes – Foket, Cajuste, Matusiwa, Locko, Busi – Mbuku, Ekitike.
Reims subs (9): Penneteau (GK), Donis, Koffi, Flips, Lopy, Kebbal, Adeline, Cassama, Mbow.
How to watch PSG vs. Reims
Date: Sunday, Jan. 23
Time: 2:45 p.m. ET
TV Channel: BeIN Sports
Streaming: FuboTV ( free trial for new users), BeIN Sports Xtra (authentication required)
The PSG vs. Stade de Reims match is available on television on BeIN Sports, or streaming via BeIN Sports Xtra, which is available via FuboTV. New users can take advantage of a free trial with the service.
Arsenal-Liverpool betting lines, picks & prediction
Pick : PSG win & Both to Score (+185)
Prediction : PSG 3-1 Reims
Moneyline : PSG -475 / Draw +600 / Reims +1300
Spread : PSG -2 (+105) / Reims +2 (-120)
O/U 3 total goals : Over -115 / Under +100
Both teams to score : Yes +125 / No -160