1 min ago
Kyiv mayor warns of "difficult" night ahead as Russian troops are "very close" to Ukrainian capital
From Yulia Kesaieva and Ivana Kottasova in Kyiv
Kyiv Mayor Vitali Klitschko said that Russian troops were "very close to the capital" and predicted "a difficult night" for the city.
"The situation now is threatening for Kyiv, no exaggeration. The night and the morning will be difficult," Klitschko said in the address posted on his Telegram channel on Friday. 
"Russian troops are very close to the capital. The sabotage groups are neutralizing the military and law enforcement agencies in the city. Bridges are under protection and special control in the capital. Military equipment and soldiers of the Armed Forces are patrolling them," he said. 
He added that Kyiv hospitals were operating in wartime mode and said checkpoints have been installed at the main entrances to the city and near strategic facilities in the capital. 
"We are doing this to protect Kyiv," he said, adding "I thank the people of the city for their willingness to defend the capital and the country, along with other units of the Armed Forces and law enforcement agencies."
CNN earlier reported that US intelligence officials are concerned that Kyiv could fall under Russian control within days, according to two sources familiar with the latest intelligence.
19 min ago
First publicly acknowledged military aid arrives in Ukraine since invasion
From CNN's Paul P. Murphy and Josh Pennington
Poland has shipped a convoy with ammunition to Ukraine, according to the country's Minister of Defense Mariusz Błaszczak, making it the first publicly acknowledged shipment of military aid to Ukraine since the Russian invasion began.
"A convoy of ammunition we are donating to Ukraine has already reached our neighbors. We stand by the Ukrainians, and show solidarity against Russian aggression," he said in a tweet.
The tweet neither described the sort of ammunition Poland sent the Ukrainians nor the amount. 
30 min ago
Ukrainian airspace warning expanded, citing missile threat
From CNN's Pete Muntean
European aviation regulators are doubling the size of the warning zone around Ukraine, fearing "mid-range missiles penetrating into controlled airspace."
The European Union Aviation Safety Agency has expanded its warning for airlines and other civilian operators from 100 nautical miles to 200 nautical miles of the Ukrainian border with Russia. 
EASA said the expanded area now factors in the "risk posed by the threat of missile launches to and from Ukraine."
The threat is real: In 2014, Malaysian Airlines Flight 17 was shot down over eastern Ukraine by a surface-to-air missile, killing nearly 300 people. Western officials and a Dutch-led investigation said Russian President Vladimir Putin bears responsibility for the incident, but Putin denied it. 
35 min ago
Poland and the Czech Republic will close airspace for Russian airlines
From CNN's Antonia Mortensen and Ivana Kottasova
Poland and the Czech Republic will close airspace for Russian airlines following Russia's attack on Ukraine.
Polish Prime Minister Mateusz Morawiecki said on Friday that he is drawing up legislation that will lead "to the closure of airspace for Russian airlines." 
The Czech Republic's Minister of Transport Martin Kupka said the country will stop operations of all Russian carriers on its territory starting tomorrow. "As of midnight today, we are stopping the operation of all Russian air carriers on Czech territory," he said on Twitter.
Yesterday, the United Kingdom announced it is banning civilian Russian aircraft from its airspace.
12 min ago
Here are some possibilities Putin may be planning for Ukraine
Analysis by Nathan Hodge and Tara John, CNN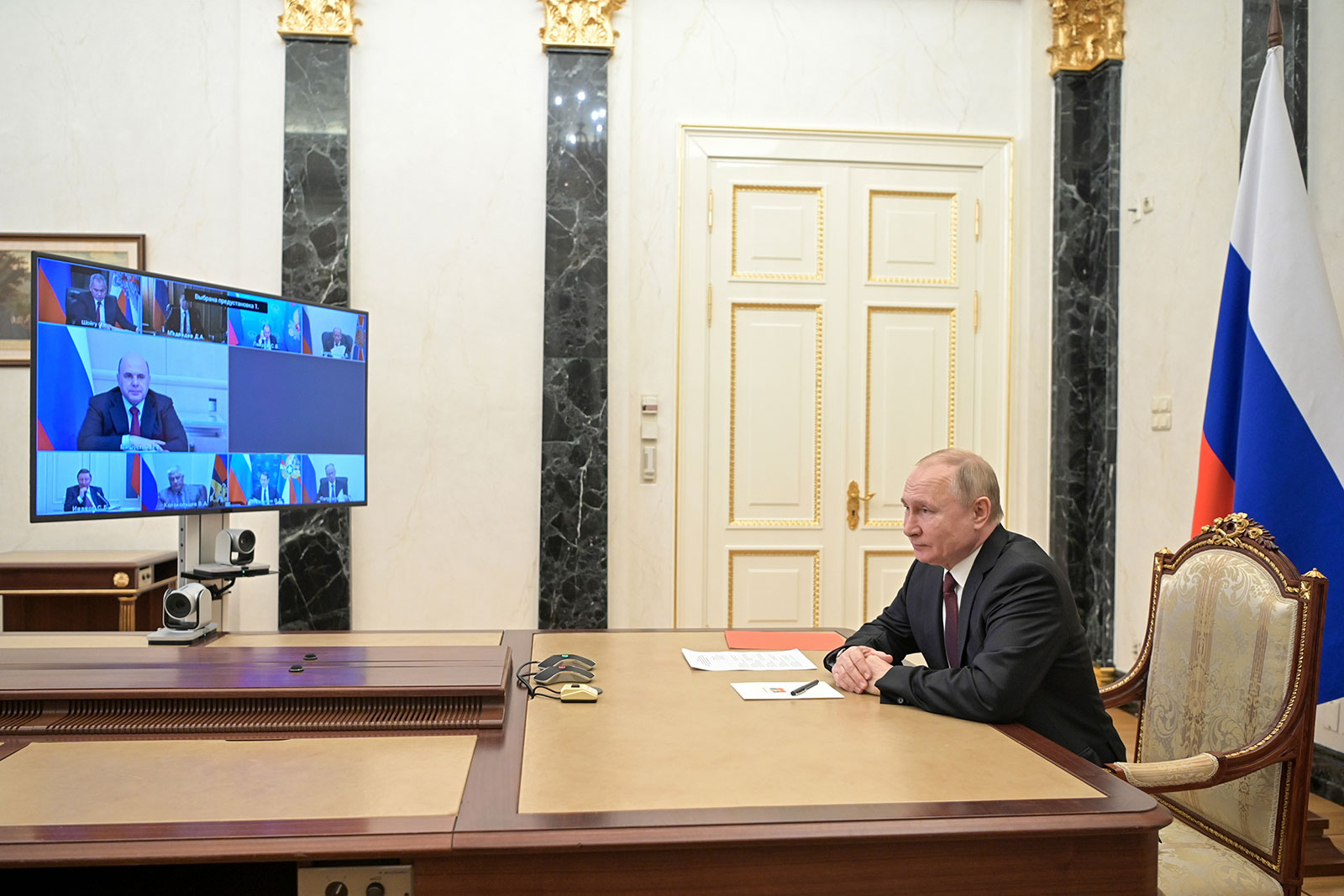 Russian President Vladimir Putin has been very clear about his basic goals in invading Ukraine: He wants to disarm the country, sever its ties to the NATO military alliance and end the Ukrainian people's aspirations of joining the West.
While guessing exactly how he plans to execute that plan is a different matter, history can serve as a guide for understanding Putin's possible endgames.
Crimea annexation 2.0
If Russian forces are able to capture Ukraine's port city of Odessa, it's possible to imagine a land bridge extending all the way across southern Ukraine, potentially even linking Transnistria — a separatist enclave in Moldova, where Russian troops are stationed — to Odessa, Crimea and southern and eastern Ukraine.
A partitioned Ukraine
If Putin has partition in mind, Galician Ukraine and the city of Lviv — close to the Polish border — could potentially be a part of a sort of rump Ukrainian state, while Russia focuses its attentions on the east of the country.
A pro-Russian state
Western intelligence officials warn that Russia is planning to topple Ukraine's democratically elected government, replacing it with a puppet regime. Putin has suggested he sees the current democratically elected government in Ukraine as illegitimate, and lamented the ousting of pro-Russian President Viktor Yanukovych in 2014. Ukraine does have other politicians who might be eager to fill the ranks of a pro-Russian government, installed possibly by force.
An uneasy occupation
Russia says it doesn't want to be an occupier, but it's easy to imagine a scenario where Russia tries to impose its form of heavy-handed rule on Ukraine. That would be hard pill for Ukrainians to swallow as they have free press, freewheeling local politics and a tradition of street protest. In the Russian political system, genuine opposition protests are largely banned, or very difficult to organize.
A violent occupation
Putin has had no problem backing violent local strongmen with scant regard for human rights. His own political rise began with the pacification of Chechnya, a breakaway republic in Russia's north Caucasus.
A republic of fear
Russia has a fearsome domestic security apparatus that jails and persecutes dissidents and keeps potentially troublesome opponents out of politics. Ukrainians living in Crimea — which was occupied by Russia in 2014 and annexed after a referendum widely seen as a sham — experienced first-hand what it's like to live in a state where the FSB, Russia's state security service, is all-powerful.
You can read the full analysis here.
21 min ago
UK to introduce further sanctions against Putin and Lavrov imminently 
From CNN's Martin Goillandeau in London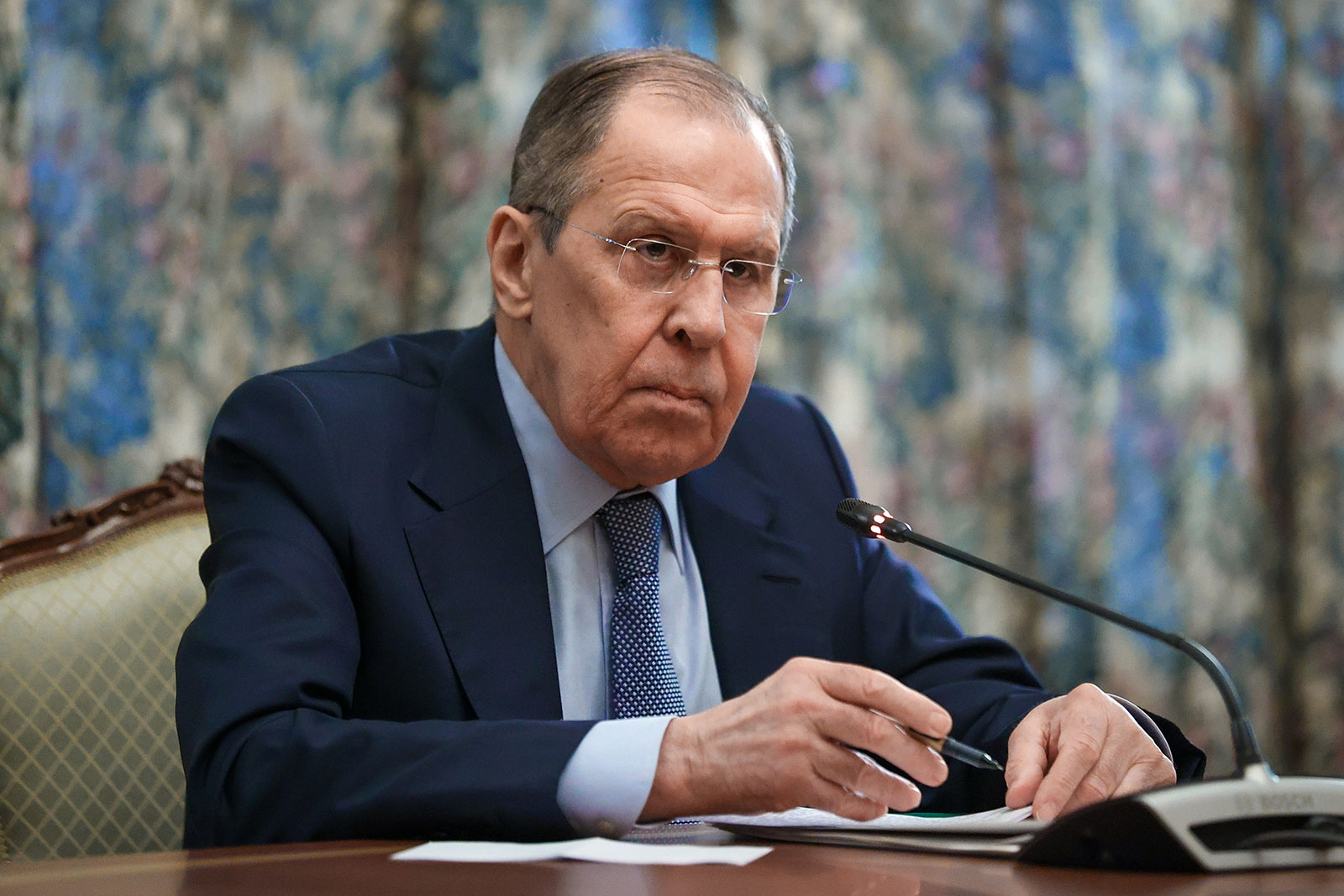 UK Prime Minister Boris Johnson said on Friday he will introduce new sanctions against Russian President Vladimir Putin and his Foreign Minister Sergey Lavrov "imminently" on top of sanctions the United Kingdom announced yesterday.
A readout of Johnson's call with NATO leaders published on the UK government's website read that Johnson urged them "to take immediate action against SWIFT to inflict maximum pain on President Putin and his regime."
SWIFT is a high-security messaging network that connects thousands of financial institutions around the world.
The UK PM told the group that "a catastrophe was engulfing Ukraine," and that "President Putin was engaging in a revanchist mission to over-turn post-Cold War order."
Johnson said that Putin's "ambitions might not stop there" and that the Russian attack on Ukraine was "a Euro-Atlantic crisis with global consequences."
"The Prime Minister added that the world must make certain President Putin would fail in this act of aggression. Ukraine was showing strong resistance. He added that there could no normalization of relations with Russia after this act," the Downing Street statement read.
"The UK stood ready for any further request from NATO's Supreme Allied Commander Europe to go further with military support to NATO from UK Armed Forces," Johnson told NATO leaders, per the statement.
42 min ago
EU adds Russian President Putin and Foreign Minister Lavrov to its sanctions list
From CNN's Chris Liakos
The European Union has added Russian President Vladimir Putin and Foreign Minister Sergey Lavrov to its sanction list, High Representative of the Union for Foreign Affairs and Security Policy Josep Borrell said in a press conference on Friday following the EU Foreign Affairs Council in Brussels.
"This is the final outcome of the discussion that was not finished yesterday at the European Council and has been decided today by the ambassadors and the Ministers," Borrell said.
"So President Putin and Foreign Minister Lavrov are in the list of sanctioned people together with the remaining members the Duma who are supporting this aggression," he added.
Borrell said that the only world leaders who were sanctioned by the European Union are Syrian President Assad and Belarusian President Lukashenko.
"And now Putin," he added.
51 min ago
President Biden and President Zelensky spoke for 40 minutes today
From CNN's Besty Klein and Kaitlan Collins
US President Joe Biden and Ukrainian President Volodymyr Zelensky spoke about sanctions and defense assistance on Friday.
The White House confirmed that the meeting ran from 11:52 a.m. to 12:32 p.m. ET.
The Ukrainian President shared details of the meeting via his official Twitter account, saying:
The conversation comes after Zelensky, who is still in Kyiv, delivered a speech overnight saying Ukraine was "alone in defending our country." 
"Who is ready to give Ukraine a guarantee of joining NATO? Honestly, everyone is afraid," Zelensky said. Today I asked 27 European leaders if Ukraine will be in NATO, asked straight up. Everyone is afraid, not responding, but we are not afraid."
37 min ago
NATO head calls on Russia to stop "senseless war," says Russia and Belarus will be held "accountable"
From CNN's Chris Liakos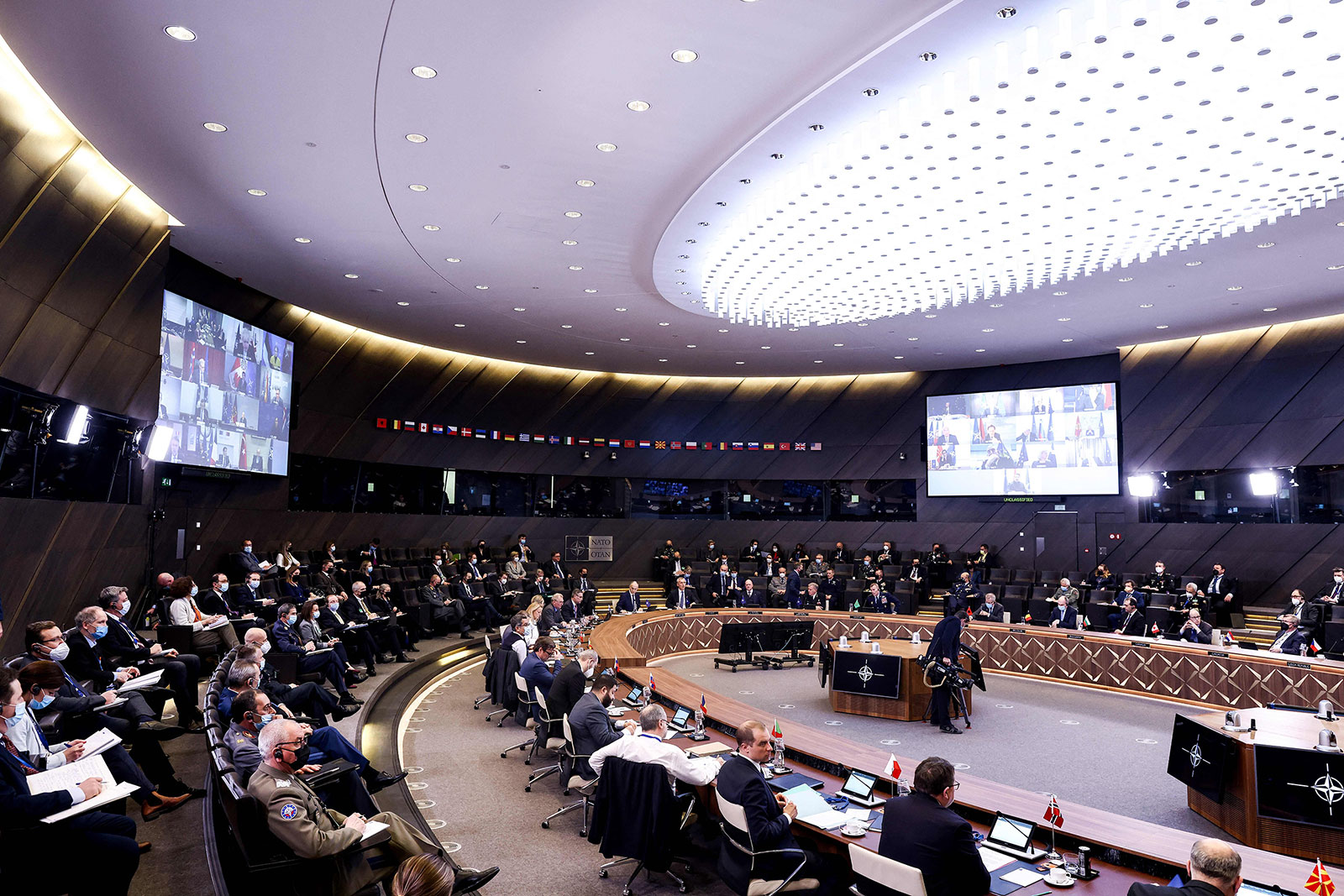 Following an extraordinary virtual summit of NATO heads of state and government on Friday, NATO Secretary General Jens Stoltenberg urged Russia again to stop the attack on Ukraine.
"We call on Russia to stop this senseless war, immediately cease its assaults, withdraw all of its forces from Ukraine and turn back to the path of dialogue and turn away from aggression," he said in a press conference adding that "the Kremlin's objectives are not limited to Ukraine."
He warned that the alliance is facing a new normal in European security.
"Russia has demanded legally binding agreements to renounce further NATO enlargement and to remove troops and infrastructure from allies that joined after 1997," he added.
Stoltenberg also warned that "the world will hold Russia and Belarus accountable for their actions — Russia as the aggressor, Belarus as the enabler."