Latest – Alexander Zverev was kicked out of the ATP 500 tournament in Acapulco, Mexico, for "unsportsmanlike conduct" after his doubles match, with the German later apologising for his behaviour.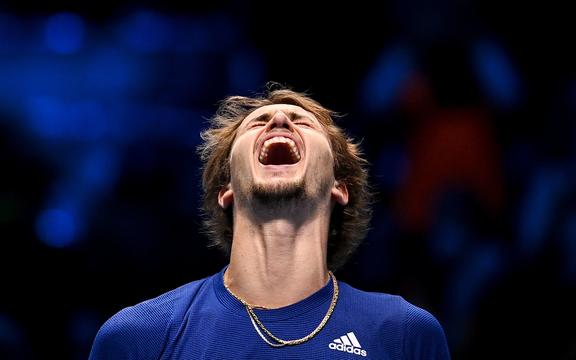 Photo: PHOTOSPORT
Zverev, partnering Brazilian tennis player Marcelo Melo in doubles, came perilously close to hitting umpire Alessandro Germani when he repeatedly assaulted the umpire's chair with his racquet after a loss to the British-Finn pair of Lloyd Glasspool and Harri Heliovaara.
Zverev said he regretted his behaviour and apologised for the incident.
After shaking hands with the opponents, the 24-year-old Zverev, ranked third in singles, approached the umpire's chair and hit it repeatedly before heading towards his courtside seat, upset over a line call during the match earlier.
He approached the chair a second time and once again hit it while shouting expletives.
Last year's winner, Zverev was scheduled to meet fellow German Peter Gojowczyk, who will now get a walkover to advance to the quarter-finals.
Zverev's angry outburst could earn him a fine and ban.
-Reuters
Hamilton wants neutral officials
Seven-times world champion Lewis Hamilton called on Formula One to bring in "non-biased" race stewards, saying friendships between some of them and certain drivers had influenced their decision-making.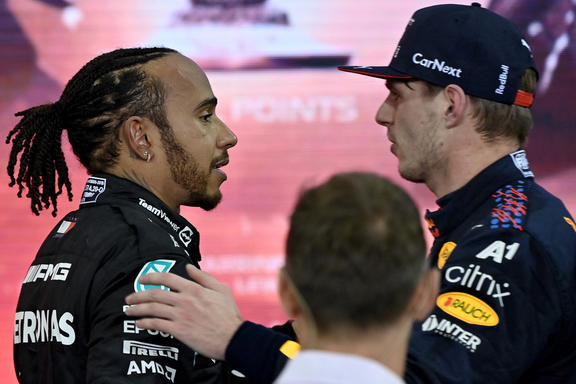 Champion Red Bull's Dutch driver Max Verstappen (right) greets second-placed Mercedes' British driver Lewis Hamilton after the Abu Dhabi F1 Grand Prix at the Yas Marina Circuit on 12 December, 2021. Photo: AFP / Andrej Isakovic
The Briton, who said he had lost faith in the sport's governance following the controversial safety car call in last year's Abu Dhabi finale that denied him an unprecedented eighth title, did not name any stewards or driver.
He also did not specify any incidents where a biased decision had gone against him.
"Race drivers, some are very, very good friends with certain individuals, some travel with certain individuals and tend to take a more keen liking to some of them," the 37-year-old told a news conference on the opening day of pre-season running in Barcelona.
"So I think (F1 should appoint) just people … that have just no bias and (are) super central when it comes to making decisions," said the Briton, adding he would also like to see greater female representation among the stewards.
Formula One races are policed by a rotating panel of stewards whose responsibility it is to rule on incidents during the race, which includes the handing out of penalties.
-Reuters
Murray unhappy with prize money split in Dubai
Former world number one Andy Murray said the difference in prize money at the Dubai Championships is a "big step backwards", with the men's singles winner set to receive five times more the amount as compared to the women's champion.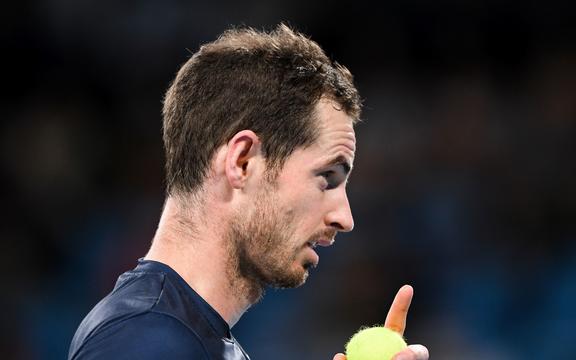 Photo: PHOTOSPORT
Latvia's Jelena Ostapenko took home $154,000 after winning the women's WTA 500 event by beating Veronika Kudermetova in the final last weekend.
The men's ATP 500 event, which ends this weekend, will result in the winner receiving prize money worth $773,000.
"Obviously that's a big step backwards, so it's not great," Murray said after his 7-5 6-2 loss to Jannik Sinner.
"Obviously if they're the same size events one week apart, that's quite a big discrepancy."
Tennis is usually considered the leader in the battle for equality for women's sport, with equal prize money paid to men and women at the four Grand Slams.
"There has been tournaments on the tour, like the Washington event, for example, with the different size events, the prize monies are different," Murray added.
"I've also played the tournament in Brisbane for the men, which is a smaller event compared to women, and the prize money is flipped the other way."
-Reuters
New head of Women's Rugby
Englishwoman Sally Horrox, former advisor to the Football Association and UEFA, has been appointed as director of women's rugby at World Rugby.
Horrox, joint managing partner at London-based sports and brand consultancy Y Sport, also had a previous stint as non-executive director at England Netball.
Horrox, who will take up the position in early May, joins ahead of the 2021 Women's World Cup, which was delayed due to COVID-19 and will be held in New Zealand in October and November this year.
New Zealander Katie Sadleir previously held the position of General Manager of Women's Rugby, before moving to the Commonwealth Games Federation last year.
Rainey back on his bike
American motorcycling great Wayne Rainey will be reunited with a racing bike at the Goodwood Festival of Speed for the first time since a crash at the 1993 Italian Grand Prix that left him paralysed from the chest down.
The three-time 500cc World Motorcycle Champion will ride the Yamaha YZR500 on which he won the 1992 World Championship.
The bike has been reconfigured to be ridden using handlebar controls alone.
"This is a once-in-a-lifetime opportunity and one I couldn't pass up," Rainey said. "This year marks 30 years since I won my last World Championship and when Goodwood suggested that I ride one of my GP bikes, the wheels started spinning.
Rainey won 24 500cc GP races and took 64 podiums in 82 starts, winning three straight titles in 1990, 1991 and 1992. At the time of his accident in 1993, he was on course to add another title to his tally, leading standings with three races left.
Following his crash, the American became Yamaha's team manager for a few years, before retiring in 1998. He is currently the president of MotoAmerica.
-Reuters