Questions for Tom? Just click here
It's meteorological spring and questions to the mailbag have a spring-y feeling: can I fish in this pond? What happened to Unofficial? What's with all the pheasants? What's with all the geese at Kaufman Lake? What's with the new Illinois license stickers?
Also, Hickory River could open soon in west Champaign, you won't see a flashing yellow arrow at U.S. 45 & Monticello Road, there's no timetable for freight trains, and the University of Illinois has more chickens on its South Farms (5,500) than the population of Chicken Bristle, IL.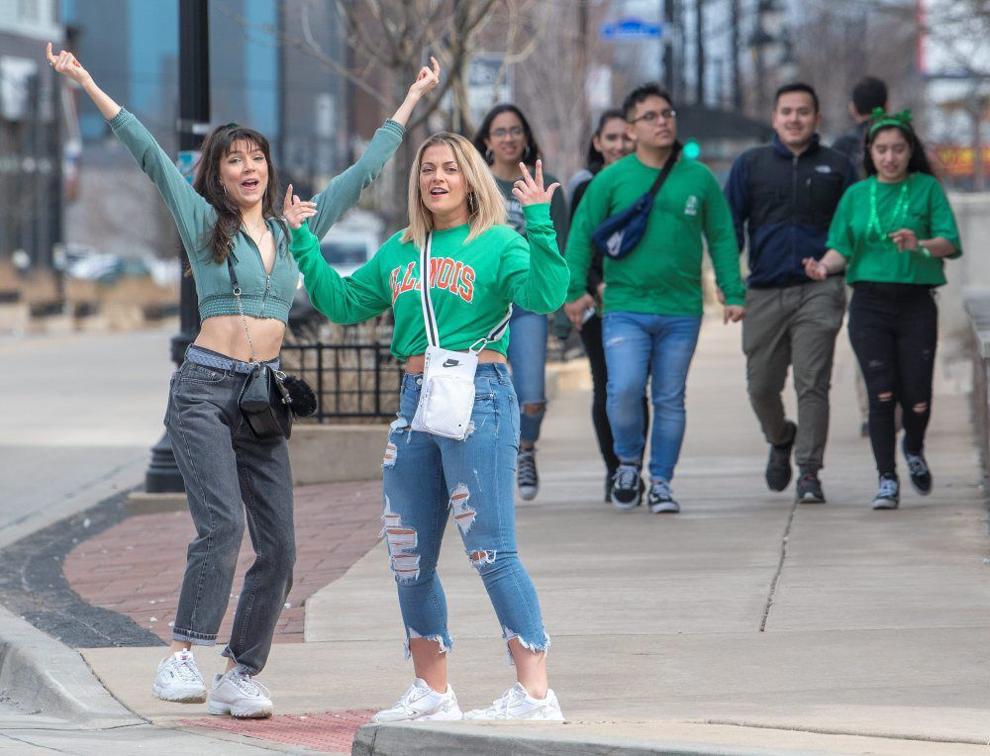 Unofficial officially gone?
"The first Friday in March has been Unofficial St Patrick's day for a long time in Campustown, but haven't heard or seen any mention of it this year. Is it dead?"
Dead is probably too strong a word. But it appears that it's not happening this year, certainly not at the scale of years past.
City officials told me they had been monitoring social media and watching for any notices and advertising and had seen nothing.
I drove through Campustown around 8 a.m. this morning. The bars were closed and I saw only two young men wearing the telltale "Unofficial" green t-shirts.
The University of Illinois Archives pegs the beginning of the UI's Unofficial St. Patrick's Day celebration to March 8, 1995, when bar owners promoted an all-day "Shamrock Stagger," with the tagline: "U of I's Official St. Patrick's Day Party."
The event was held on March 8 because the university's spring break was to begin two days later. By 1997 "Unofficial" was moved to a Friday and the real revelry began.
"In following years, Unofficial St. Patrick's Day has outgrown its origins as a promotion held at a few drinking establishments, and become something of an annual campuswide celebration, inspiring Unofficial-themed house parties, yearly t-shirt designs, and attracting visitors from beyond Urbana and Champaign," UI archivist Rory Grennan wrote in 2014. "University students have also adopted a puzzling tradition of attending class while drunk, to avoid being docked attendance points while partying."
License plate stickers
"I noticed that this year's Illinois license plate renewal sticker does not have the license plate number on it. I presumed it was printed on there to prevent theft. Any ideas why they removed it?"
and
"I just went to the DMV to get my new way overpriced sticker for the year for my vehicle. I got a sticker with '23 Illinois' on it. Why did they take the month of expiration off the stickers? This would be another reminder for me to renew my registration every year, I know they send out a postcard the month before, but if you're like me, I tend to forget."
"The Secretary of State's sticker producer was unable to provide 2023 stickers in the usual format, which allows our office to individually print information on the sticker," said Henry Haupt, a spokesman for Illinois Secretary of State Jesse White. "Our office purchased the only type of sticker that was available. These particular stickers come in rolls and cannot be individualized.
"The Secretary of State's office will resume providing standard stickers once they are available. Law enforcement is aware of the situation."
The sticker supplier apparently had supply chain issues.
Below is a link to sign up for email reminder notices for your annual license plate sticker renewal.
"Unlike the postcard that your reader references, we will email you three times to remind you of your approaching license plate sticker expiration date," Haupt said.
Catching up on Hickory River-Champaign
"A while ago, it was reported that Hickory River was going to open a location in Champaign, over near Carle at the Fields. Then COVID hit and I haven't heard anything more about that. Is that still planned or did they have to change that plan for some reason?"
The plan now is to open this spring.
"We have restarted the build-out of the east two-thirds of the building at 3154 Fields South Drive, east of Haymakers in the Carle at the Fields development," said Mike Madigan, local Hickory River franchisee. "Rugged Outdoors occupies the west one-third of the building.
"We hope to be open by May or June. That is our goal but supply chain issues and lack of staffing continue to be major challenges. We hope these things improve over the next few months.
"This restaurant will be a new look for Hickory River with a more modern decor, more TVs, a full bar and patio seating with occasional live music. So for bartenders, servers and cooks out there looking for a new career opportunity with very good pay and benefits, please apply on our website. We also are hoping to add a few new menu items as well.
"As with our other stores, this one will have a drive-thru, online order/curbside pickup, and large order delivery. All catering in the greater C-U area will continue to be handled by the Urbana restaurant."
The Urbana restaurant, on North Cunningham Avenue, has been open since January 1995.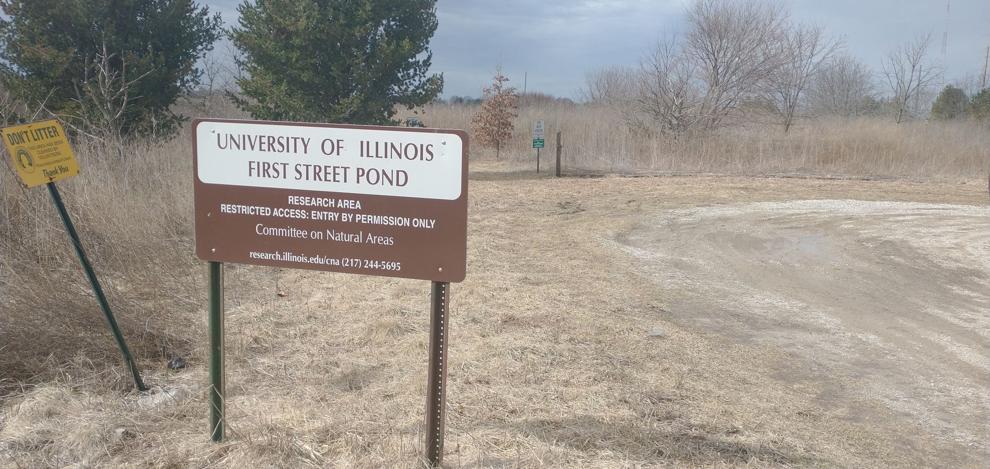 First Street Pond
"Can you find out if the pond/lake at the southwest corner of Windsor and First Street is open to the public for fishing, I fished there many times in the 1980s and '90s but never see anyone there in the past few years."
The property, owned by the University of Illinois and managed by the UI's Committee on Natural Areas, is closed to the public and to recreational activities, said James Ellis, natural areas coordinator at the University of Illinois and the Illinois Natural History Survey.
Access to what is known as the First Street Pond is "limited and restricted by permission only," he said.
Other nearby CNA properties include Brownfield Woods north of Urbana, Trelease Woods northeast of Urbana and the Vermilion River Observatory southeast of Danville.
Construction traffic
"I live in a part of Champaign where there seems to be constant construction and rare is the weekday anymore that I don't get stuck behind some piece of construction equipment with wheels puttering along for several blocks … at 5 miles per hour on a Champaign street. Does the city not have any rules preventing this? It happens with ag equipment during harvest season too, which is also aggravating but at least I know that is only for a brief period."
Consider it the cost of living in a community that thankfully is still growing. There are no local laws or rules governing the speed of construction equipment.
"Non-highway vehicles are governed by Illinois Vehicle Code," reminds Kris Koester of Champaign's Public Works Department. "Unless a city or town has a different ordinance, these vehicles can go from one place to another on a road with a speed limit of 35 miles an hour or less. The city does not have anything contradicting this."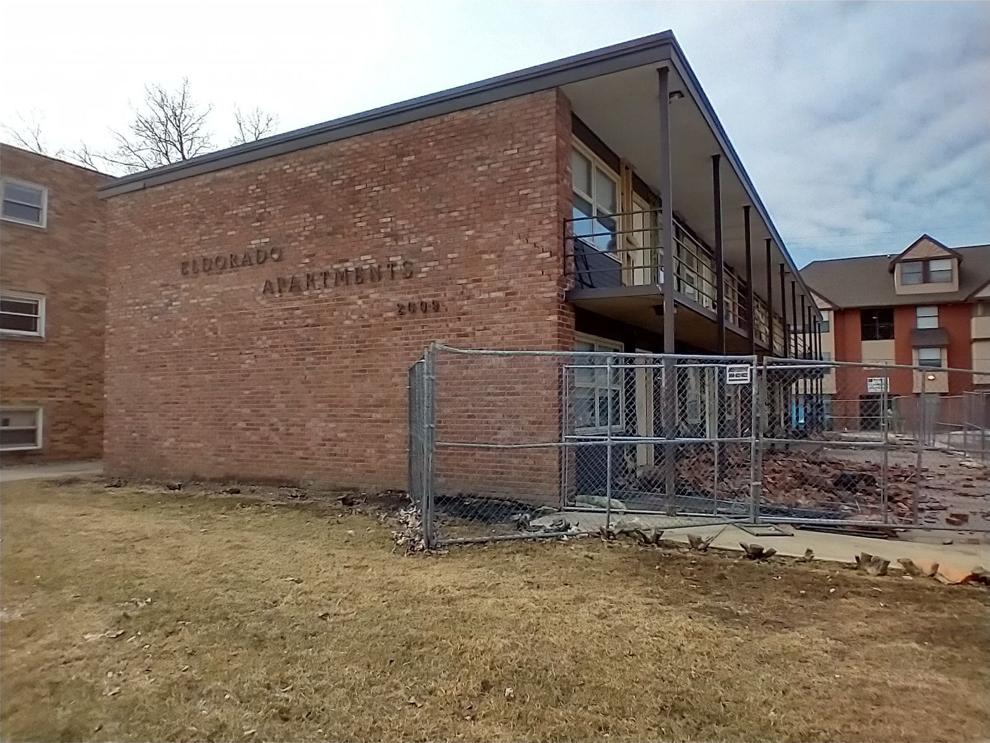 Unsightly apartment building
"An apartment building on Philo Road between Colorado Avenue and Silver Street (in Urbana) was vacated last fall and a construction fence put around it. Now brick is falling off, the windows have been boarded for some time and it is deteriorating. Are there plans for the building? This neighborhood has problem already without this unsightly mess."
"The city required this property to be vacated due to concerns with the exterior balcony and stairway," said Nick Hanson, a building official with the city of Urbana. "The current owner is working with a structural engineer and the city to correct the issues and once corrected the property will be approved to be reoccupied."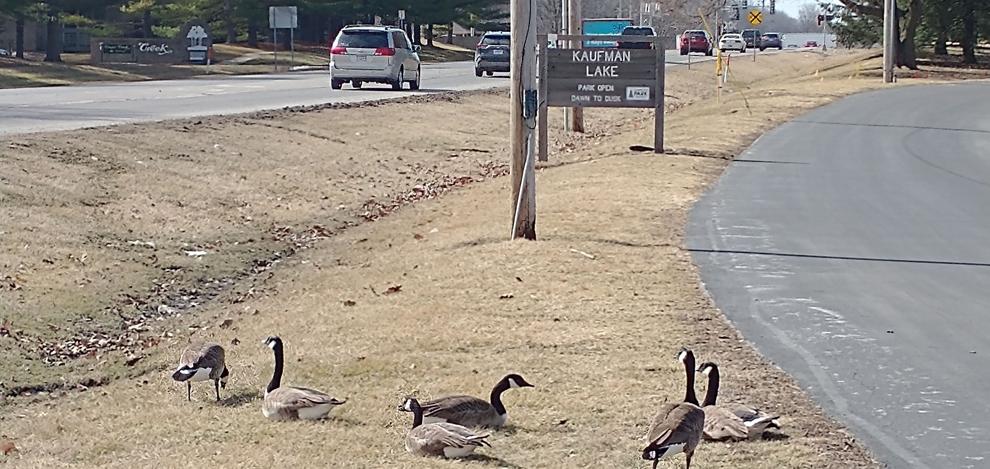 Geese at Kaufman Lake
"The geese population at Kaufman Lake (in Champaign) has gotten pretty high. Are there any plans to do a geese harvest similar to what they did in Urbana last year?"
The Champaign Park District, which owns Kaufman Lake, is not planning to do a goose harvest, said Executive Director Joe DeLuce
Also, that goose harvest at Crystal Lake Park was in 2020.
Annoyed by trains
"Does the train crossing on Bradley Avenue, east of Market Street have any set schedule for trains? It seems no matter what time I'm in that area, there is a train either going very slowly or stopped on the crossing."
Our railroading friend, Jon Roma, said "there is a schedule of sorts for freight trains, but it is quite loose, and there are a lot of 'ifs, ands or buts' regarding when trains run."
The Illinois Commerce Commission says there is an average of about 25 trains a day (including Amtrak) that use the Canadian National tracks that cross Bradley Avenue just east of Market Street.
"Freight trains have an internal 'timetable' in the railroad's computer, but it is a loose timetable. For a lot of commodities shipped by rail, speed is less important than punctual arrival at or before the time the railroad promises delivery," said Roma, a software developer at the UI who also collaborates with the university's Rail Transportation and Engineering Center. "An exception is something like one of Norfolk Southern's hot trains that delivers auto parts from the Detroit area to the Ford and GM assembly plants near Kansas City. This train travels on the former Wabash line through Sidney, Tolono, Sadorus, Bement, etc. Auto parts are shipped for 'just-in-time delivery,' saving the automaker from having to maintain inventory in warehouses.
"For these shipments, the consequences of the auto parts arriving late include a whole shift at the plant having nothing to do. The contract between the railroad and shipper provides for a substantial financial penalty paid by the railroad for late arrival. The railroad handles this traffic on a loose schedule that allows cushion to absorb minor delays encountered en route, and the train dispatchers handling these moves weigh train adherence to schedule in addition to a few dozen other factors when determining which trains go, and which trains wait in a siding.
"On the CN, there is a regular intermodal train (made up of truck trailers or shipping containers on flatcars) that runs from Chicago to New Orleans. Given the importance of this train, it almost always passes through Champaign between 8 and 9 p.m. In days of yore before federally subsidized Interstate highways allowed truckers to take the traffic away, (Illinois Central) had a substantial business of bananas from the Gulf Coast, as well as other fruit like strawberries from Louisiana and Mississippi, peaches from southern Illinois, and so on. These were priority shipments because, needless to say, if they were delayed, the lading would become worthless.
"Other traffic is less urgent, and hence their internal schedules are more variable. While coal is less of an important commodity than it was 30 years ago, it is a good example of a low-priority commodity: Its next destination is a large pile at its destination (more often than not a steel mill or power plant). Yes, the consignee expects it to arrive in due course, but coal is not perishable, so its transit time is relatively unimportant. Also, the movement of coal traffic was seldom precisely scheduled – trains ran when the mine filled a train of hoppers with the black diamonds, and consignees ordered trainloads of coal when their stockpiles started to drop below a threshold. As you can imagine, coal demand is higher at power plants during heating and cooling season, so this also fluctuates.
"Other commodities handled on CN include grain (mostly corn and soybeans from the elevators of central Illinois) headed for Decatur or for transfer to barge or ship at a port downriver. Chemical traffic from the Louisiana 'chemical coast' (northward traffic) is also a significant source of traffic traveling through Champaign.
"Part of the reason train time fluctuates is that departure time sometimes depends on how much loading is available to make up a train, or if some of the scheduled loading for a road freight is delayed in its arrival at the originating yard. You surely understand seasonal commodities, but there are regular ebbs and flows of traffic in weekly cycles as well.
"For efficiency, railroads like to fill out a train, gaining economies of scale as a result. However, customers favor timely arrival of their commodities, which favor shorter and more frequent trains. I think this balance has been a source of tension between railroads and shippers since the first railroad was built in the 1830s.
"Another factor is crew availability. Rail crews (like airline pilots, etc.) are subject to the federal hours of service rules. If no crews are available who are legally rested, a train will wait until a crew is available. Again, some of these contingencies are built into the train's scheduled service plan."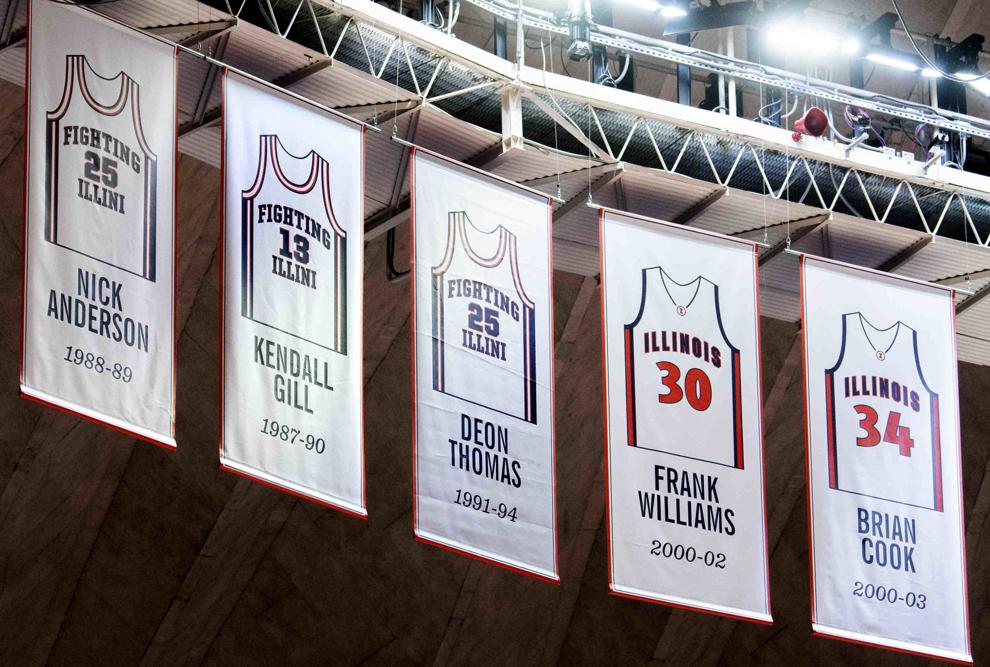 Wrestling recognition
"Now that the University of Illinois wrestling team has moved all dual meets from Huff Hall to its new permanent home at the State Farm Center, will the recognition of the team's history of champions (including recent 2-timers Jesse Delgado and Isaiah Martinez) be joining the basketball honors in the rafters there or remain displayed in the gym at Huff Hall?"
"This is a great question, and one that we haven't discussed internally yet," said Kent Brown, associate athletic director for media relations at the UI's Division of Intercollegiate Athletics. "Our available space on the ring at State Farm Center is very limited, so I know any additions will be challenging. However, since wrestling has moved there, it is certainly something that will be addressed."
Rebuild Illinois
"I have recently seen TV ads by our governor touting the fact he has recently launched a campaign to repair Illinois roads and bridges. Wasn't this supposed to be funded by the second largest gas tax in the country? Where has all that money been going?"
Yes, the governor's "Rebuild Illinois" is funded by increases in the state motor fuel tax, higher truck and passenger vehicle  registration fees and higher title fees. Although Pritzker proposed it the Legislature had to approve it as well.
Illinois has the second-highest gas tax in the country, well behind California and just ahead of Pennsylvania. Rebuild Illinois is supposed to lead to $25 billion in roads and bridges projects over six years, $4.6 billion for mass transit, $1.4 billion for rail projects and $150 million for airport facilities.
Among the local projects are $120 million for the I-57/I-74 interchange, $29 million for the I-74 bridge over the Canadian National Railroad tracks, $18.5 million to widen Prospect Avenue from I-74 to Springfield Avenue and $3.7 million to resurface U.S. 136 near Fisher.
Trucks parked on city streets
"What are the ordinances pertaining to parking commercial vehicles on Champaign city streets? Specifically, is it legal to park a tractor-trailer rig on certain streets in Champaign?"
The Champaign city code prohibits oversized vehicles such as semi tractor / trailers from parking on streets in residential districts, said Tim Spear, code compliance manager for Champaign's Neighborhood Services department.
Here's the code referenced:
"Sec. 33-141. – Restrictions in residential areas.
(a) No person shall park any vehicle having a Gross Vehicle Weight Rating in excess of twelve thousand (12,000) pounds, truck tractor, semi-trailer, pole trailer, trailer, farm vehicle, any vehicle with a specialized vehicle bed or bus on a street in a residential district for a period longer than is necessary for the reasonably expeditious loading or unloading of such vehicles. Such vehicles bearing the following license plate designations or any license plate designations set out in the State Vehicle Code (625 ILCS 5/1-101 et seq.) indicating vehicles with a Gross Vehicle Weight Rating of twelve thousand one (12,001) pounds or more shall be irrebutably presumed to be a vehicle prohibited from parking on a street in a residential district by this subsection:
"Code Code Compliance Division takes complaints about these parking issues and attempts to provide education to the owners of the vehicles regarding the Municipal Code. If the owner of the vehicle does not voluntarily comply with the Municipal Code, then the case is referred to the Parking Division for enforcement."
Complaints about oversized vehicles parked in residential districts (or other on-street parking complaints), can be submitted by calling (217) 403-7070 or filling out a form online.
Pheasant population
"It seems that we are seeing many more pheasants this year than in previous years. I understand that pheasant population surveys are conducted periodically. Is there any data that confirms an increase in the pheasant population? If the population has increased are their opinions as to why?"
"The population of ring-necked pheasants in Illinois has decreased by about 85 percent since 1970, largely driven by changes in land use, particularly increases in row-crop production at the expense of other land-cover types and increases in field size with consequent reductions in the amount of grassy habitat associated with field borders," said Thomas J. (TJ) Benson, principal research scientist at the Illinois Natural History Survey. "Farm Bill programs, particularly the Conservation Reserve Program (CRP), led to some population increases and stabilization starting in the late 1980s, but many of these gains have disappeared as incentives to enroll in such programs fluctuate based on numerous factors including commodity prices. There have been strong efforts by organizations such as Pheasants Forever in recent years to increase enrollment in CRP, particularly new programs geared toward pollinators, that have likely had positive impacts in our areas as well as others around the state.
"Although the trend for pheasants in Illinois over the past decade or so has been slightly decreasing to relatively stable, these recent efforts may be leading to some local increases.
"Pheasants also have the potential to produce lots of young in any given year, and favorable weather in spring and summer combined with mild winter conditions can improve survival of young and lead to short-term population increases."
Dallas Glazik of Paxton, a Farm Bill biologist and Pheasants Forever member from Paxton, said he believes there has been "an increase in pheasant populations as well as other species within the area. Especially seen in Ford and Iroquois counties around habitat managed site or private lands enrolled in programs such as CRP.
"Pheasant populations decreased due to habitat and food loss. When farms switched their focus to two-crop rotations and the market drove out small grain and hay production, there was a huge loss of plant diversity. This loss in plant diversity and use of different ag technologies, led to less insects.
"Now, you are probably thinking why would a loss of insects matter to a bird that feeds on grains and seeds… this is due to the fact that 90 percent of a pheasant chick's diet is composed of insects and adults regularly consume insects for a high protein food source.
"While we have not seen an increase of small grains or hay fields here in the area, we have seen an increase in wildlife focused programs within the USDA and other agencies. The most common would be the CRP practice focused on Pollinators, commonly referred to as Pollinator Patches. This program really took off in 2016 here in East Central Illinois and focuses in on diverse native wildflowers and grasses. In doing so, this brought bugs back and the birds have been following. The stands of native vegetation also provide better cover for birds and give them a better chance at survival both as chicks and adults."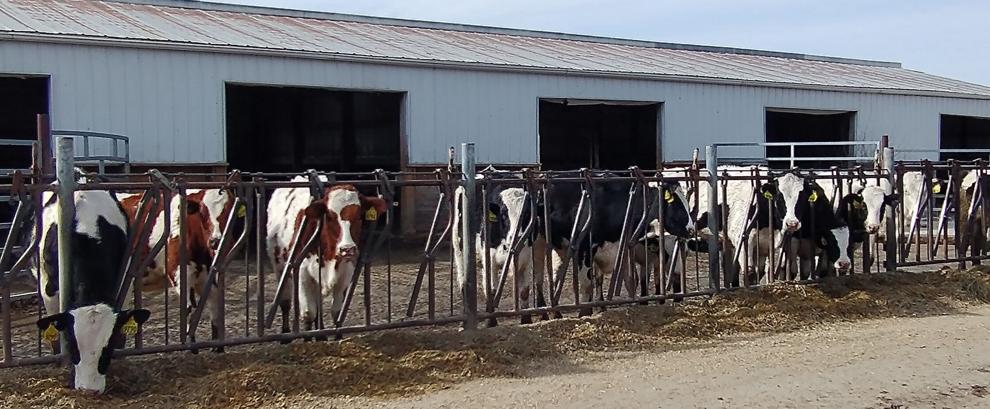 ACES numbers
"The University of Illinois agriculture school is recognized as one of the best in the country. As such they oversee the land and livestock for the UI. How much land (experimental and commercial use) and how large are livestock numbers (cattle, swine) same use? Do we know how we compare, size-wise, to other agriculture schools?"
"Thank you for recognizing the University of Illinois College of Agricultural, Consumer and Environmental Sciences (ACES) as one of the premier higher education institutions in the country," said Jonathon Mosley, director of the animal science research farms in Urbana. "The land and livestock associated with the college are managed by the Departments of Animal Sciences, Crop Sciences, Agricultural and Biological Engineering, and Natural Resources and Environmental Sciences.
"These departments operate locally on the South Farms as well as other locations throughout the state. These include the Orr Agricultural Research Center, Northwestern Illinois Agriculture Research and Demonstration Center, and the Dixon Springs Agricultural Center.
"The South Farms, located primarily south of Windsor Road, span approximately 3,300 acres. These acres are used for a variety of research-related activities that include but are not limited to the production of grains, forages, and pasture. None of these acres is considered commercial use as research is either being done on the product or the ground itself based on the land management practices being performed.
"Livestock on the South Farms includes poultry, sheep, swine, horse, beef and dairy. On average there are 5,500 chickens, 30 sheep, 350 sows, 49 horses, 120 cows, 900 feedlot cattle, and 80 milking cows."
More on the off-site research centers is found online.
Anita Million with University of Illinois Agricultural Property Services provided the numbers regarding agricultural commercial use land:
"Approximately 13,000 University of Illinois owned farmland acres are managed by Ag Property Services. Any livestock run on those acres is owned by the farm operator," she said. More information can be found online.
The UI's agriculture school is among the top five in the United States, according to a couple of surveys. Farms.com ranks them: Cornell University, University of Florida, Texas A&M, Illinois and Purdue. U.S. News & World Report offers this list: University of Massachusetts-Amherst, University of California-Davis, Cornell, Florida and Illinois.
Left turn at Monticello Road
"What steps would it take to make that left turn stoplight at Monticello Road and U.S. 45 to a flashing yellow caution turn light? It's so frustrating to have to sit at a green light, but red arrow when there is nothing coming. Surely that arrow could transition to a yellow flashing caution light."
"The traffic signal is set up with the left turn on green arrow only because of the high approach speeds and the large divided median," said Kensil Garnett, Region 3 engineer with the Illinois Department of Transportation. "Our experience has shown that allowing that movement to be made while yielding to oncoming traffic, either through a circular green indication or flashing yellow arrow indication, has the potential for severe accidents.
"There is not necessarily a high number of accidents, but when they do happen they are severe. In the interest of public safety, we feel the traffic signal should retain its current 'protected only' left turn phasing."
Shredding event
A few weeks ago there was a mailbag question about upcoming shredding events. Champaign County Crimestoppers will host a documents shredding event from 9 a.m. to 11 a.m. Saturday April 23 in University of Illinois Lot E14at the corner of Kirby Avenue and First Street in Champaign.
Off-site shredding will be provided by Triad Shredding. The suggested donation is $10 for up to two bankers boxes. Cellphone recycling also will be available with a suggested donation of $10. Crimestoppers also will have a prescription drug drop-off at the event, with local law enforcement present to collect any medicine.