West Virginia guard Taz Sherman (12) shoots in the lane against TCU Horned Frogs center Eddie Lampkin (4) during the second half at WVU Coliseum. Mandatory Credit: Ben Queen-USA TODAY Sports
Mar 5, 2022; Morgantown, West Virginia, USA; West Virginia Mountaineers senior players pose for a group photo for Senior Day before their game against the TCU Horned Frogs at WVU Coliseum. Mandatory Credit: Ben Queen-USA TODAY Sports
Mar 5, 2022; Morgantown, West Virginia, USA; West Virginia Mountaineers guard Sean McNeil (22) shoots a three pointer over TCU Horned Frogs guard Damion Baugh (10) during the first half at WVU Coliseum. Mandatory Credit: Ben Queen-USA TODAY Sports
Mar 5, 2022; Morgantown, West Virginia, USA; The West Virginia Mountaineers dance team performs during the first half against the TCU Horned Frogs at WVU Coliseum. Mandatory Credit: Ben Queen-USA TODAY Sports
Mar 5, 2022; Morgantown, West Virginia, USA; TCU Horned Frogs guard Mike Miles (1) dribbles while being defended by West Virginia Mountaineers guard Kedrian Johnson (0) during the first half at WVU Coliseum. Mandatory Credit: Ben Queen-USA TODAY Sports
Mar 5, 2022; Morgantown, West Virginia, USA; TCU Horned Frogs center Eddie Lampkin (4) shoots in the lane during the first half against the West Virginia Mountaineers at WVU Coliseum. Mandatory Credit: Ben Queen-USA TODAY Sports
Mar 5, 2022; Morgantown, West Virginia, USA; TCU Horned Frogs forward Emanuel Miller (2) shoots over West Virginia Mountaineers forward Gabe Osabuohien (3) during the first half at WVU Coliseum. Mandatory Credit: Ben Queen-USA TODAY Sports
Mar 5, 2022; Morgantown, West Virginia, USA; West Virginia Mountaineers guard Malik Curry (10) passes the ball while defended by TCU Horned Frogs forward Chuck O'Bannon Jr. (5) during the first half at WVU Coliseum. Mandatory Credit: Ben Queen-USA TODAY Sports
Mar 5, 2022; Morgantown, West Virginia, USA; TCU Horned Frogs guard Damion Baugh (10) dribbles the ball during the first half against the West Virginia Mountaineers at WVU Coliseum. Mandatory Credit: Ben Queen-USA TODAY Sports
Mar 5, 2022; Morgantown, West Virginia, USA; West Virginia Mountaineers guard Taz Sherman (12) dribbles during the first half against the TCU Horned Frogs at WVU Coliseum. Mandatory Credit: Ben Queen-USA TODAY Sports
Mar 5, 2022; Morgantown, West Virginia, USA; TCU Horned Frogs guard Damion Baugh (10) passes the ball in the lane during the first half against the West Virginia Mountaineers at WVU Coliseum. Mandatory Credit: Ben Queen-USA TODAY Sports
Mar 5, 2022; Morgantown, West Virginia, USA; TCU Horned Frogs guard Mike Miles (1) shoots in the lane during the first half against the West Virginia Mountaineers at WVU Coliseum. Mandatory Credit: Ben Queen-USA TODAY Sports
Mar 5, 2022; Morgantown, West Virginia, USA; TCU Horned Frogs guard Francisco Farabello (3) celebrates with guard Mike Miles (1) during the first half against the West Virginia Mountaineers at WVU Coliseum. Mandatory Credit: Ben Queen-USA TODAY Sports
Mar 5, 2022; Morgantown, West Virginia, USA; TCU Horned Frogs guard Damion Baugh (10) celebrates with teammates during the second half against the West Virginia Mountaineers at WVU Coliseum. Mandatory Credit: Ben Queen-USA TODAY Sports
Mar 5, 2022; Morgantown, West Virginia, USA; West Virginia Mountaineers guard Sean McNeil (22) shoots a free throw after a technical foul call against TCU Horned Frogs during the second half at WVU Coliseum. Mandatory Credit: Ben Queen-USA TODAY Sports
Mar 5, 2022; Morgantown, West Virginia, USA; West Virginia Mountaineers guard Taz Sherman (12) looks to make a move against TCU Horned Frogs guard Micah Peavy (0) during the second half at WVU Coliseum. Mandatory Credit: Ben Queen-USA TODAY Sports
Mar 5, 2022; Morgantown, West Virginia, USA; West Virginia Mountaineers head coach Bob Huggins reacts to a call during the second half against the TCU Horned Frogs at WVU Coliseum. Mandatory Credit: Ben Queen-USA TODAY Sports
Mar 5, 2022; Morgantown, West Virginia, USA; TCU Horned Frogs forward JaKobe Coles (21) reacts to a ball going out of bounds during the second half against the West Virginia Mountaineers at WVU Coliseum. Mandatory Credit: Ben Queen-USA TODAY Sports
Mar 5, 2022; Morgantown, West Virginia, USA; West Virginia Mountaineers guard Taz Sherman (12) shoots a jumper during the second half against the TCU Horned Frogs at WVU Coliseum. Mandatory Credit: Ben Queen-USA TODAY Sports
Mar 5, 2022; Morgantown, West Virginia, USA; West Virginia Mountaineers guard Malik Curry (10) shoots in the lane during the second half against the TCU Horned Frogs at WVU Coliseum. Mandatory Credit: Ben Queen-USA TODAY Sports
Mar 5, 2022; Morgantown, West Virginia, USA; West Virginia Mountaineers guard Sean McNeil (22) shoots a three pointer during the second half against the TCU Horned Frogs at WVU Coliseum. Mandatory Credit: Ben Queen-USA TODAY Sports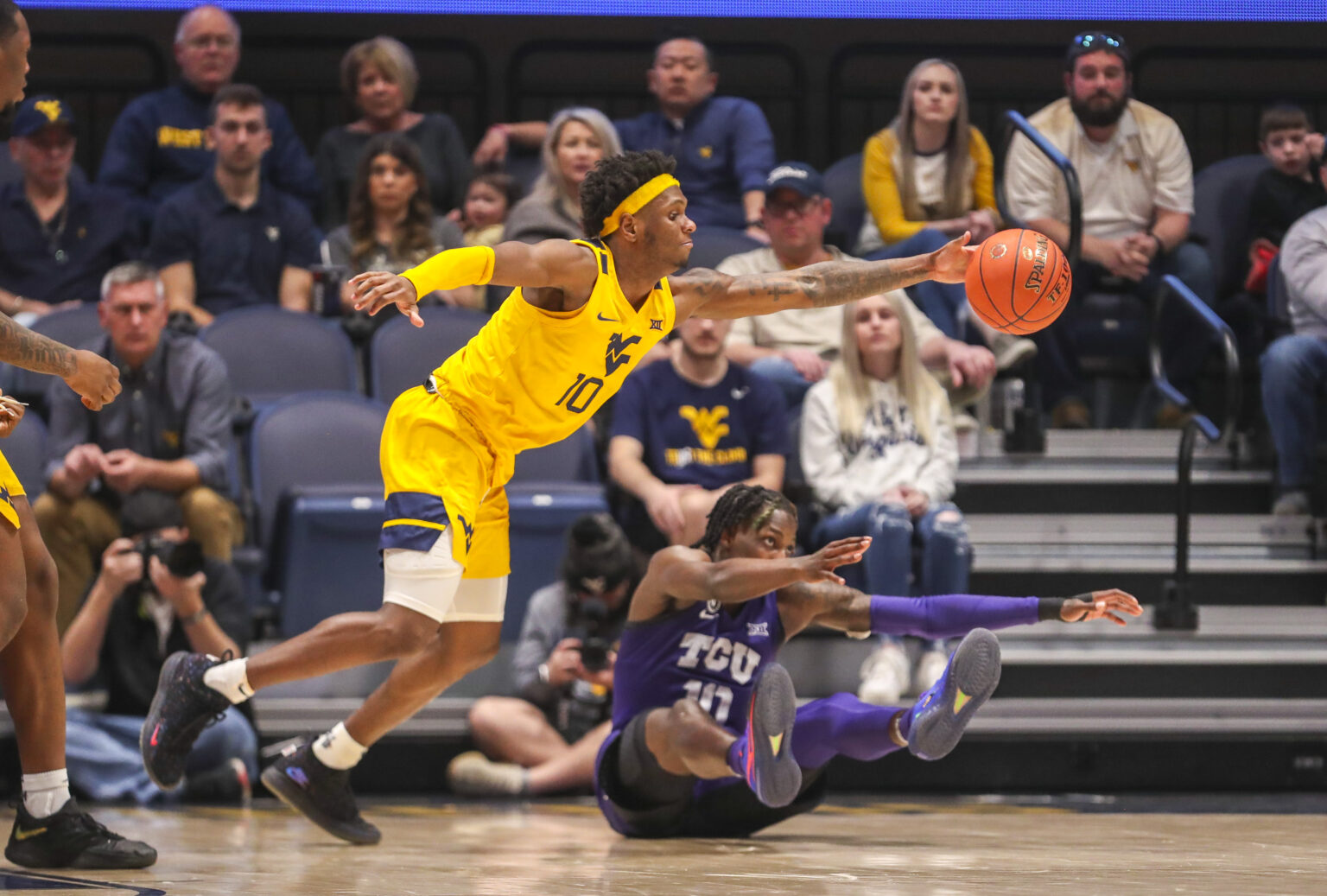 Mar 5, 2022; Morgantown, West Virginia, USA; West Virginia Mountaineers guard Malik Curry (10) steals the ball from TCU Horned Frogs guard Damion Baugh (10) during the second half at WVU Coliseum. Mandatory Credit: Ben Queen-USA TODAY Sports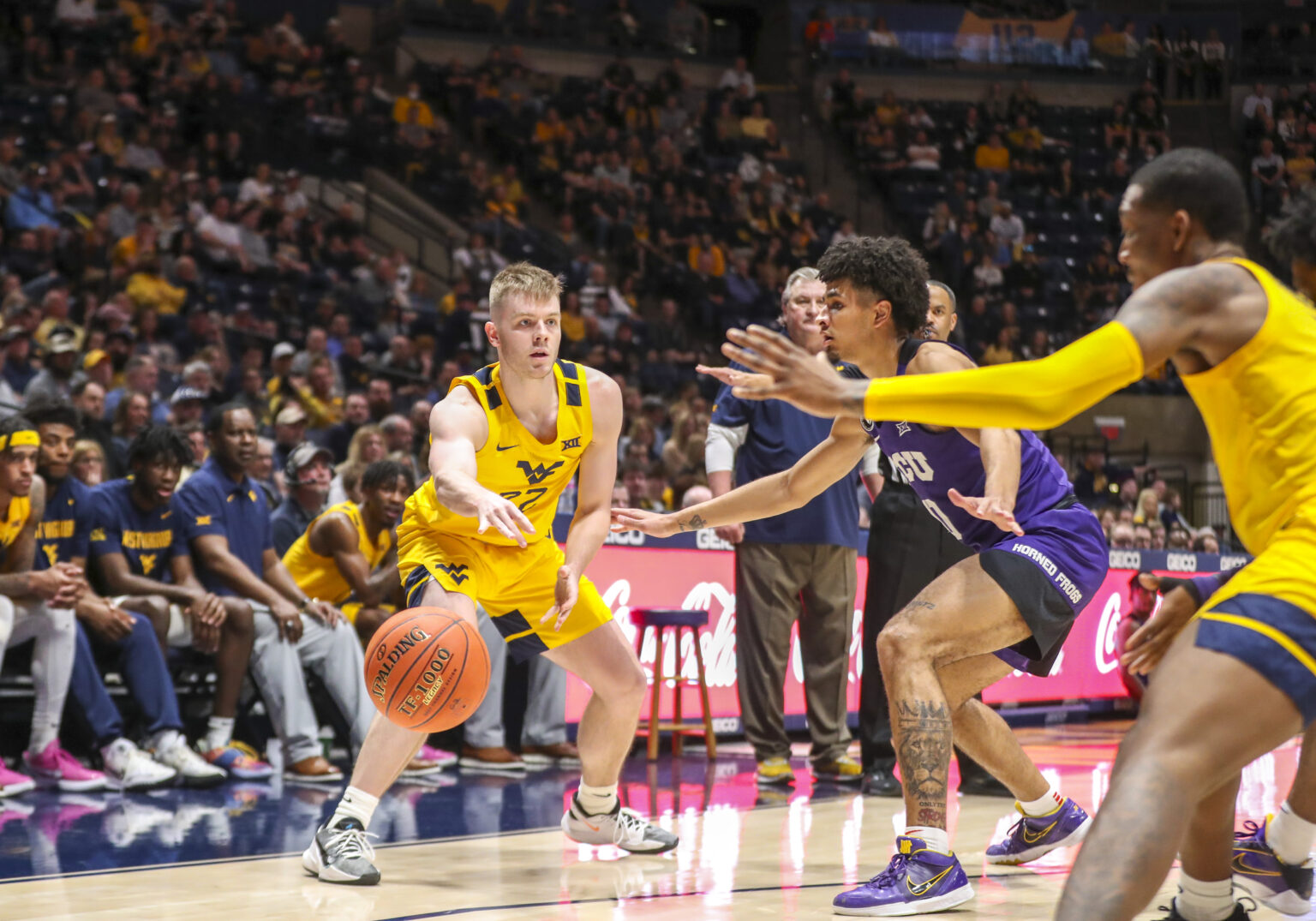 Mar 5, 2022; Morgantown, West Virginia, USA; West Virginia Mountaineers guard Sean McNeil (22) passes the ball to West Virginia Mountaineers forward Gabe Osabuohien (3) during the second half against the TCU Horned Frogs at WVU Coliseum. Mandatory Credit: Ben Queen-USA TODAY Sports
Mar 5, 2022; Morgantown, West Virginia, USA; West Virginia Mountaineers guard Taz Sherman (12) drives down the lane during the second half against the TCU Horned Frogs at WVU Coliseum. Mandatory Credit: Ben Queen-USA TODAY Sports
Mar 5, 2022; Morgantown, West Virginia, USA; West Virginia Mountaineers forward Pauly Paulicap (1) defends against TCU Horned Frogs guard Micah Peavy (0) at the rim during the second half at WVU Coliseum. Mandatory Credit: Ben Queen-USA TODAY Sports
Mar 5, 2022; Morgantown, West Virginia, USA; West Virginia Mountaineers guard Sean McNeil (22) shoots a jumper along the baseline during the second half against the TCU Horned Frogs at WVU Coliseum. Mandatory Credit: Ben Queen-USA TODAY Sports
Mar 5, 2022; Morgantown, West Virginia, USA; West Virginia Mountaineers guard Malik Curry (10) shoots a three pointer over TCU Horned Frogs guard Damion Baugh (10) during the second half at WVU Coliseum. Mandatory Credit: Ben Queen-USA TODAY Sports
Mar 5, 2022; Morgantown, West Virginia, USA; West Virginia Mountaineers guard Malik Curry (10) drives down the lane during the second half against the TCU Horned Frogs at WVU Coliseum. Mandatory Credit: Ben Queen-USA TODAY Sports
Mar 5, 2022; Morgantown, West Virginia, USA; West Virginia Mountaineers forward Pauly Paulicap (1) shoots in the lane during the second half against the TCU Horned Frogs at WVU Coliseum. Mandatory Credit: Ben Queen-USA TODAY Sports
Mar 5, 2022; Morgantown, West Virginia, USA; West Virginia Mountaineers forward Gabe Osabuohien (3) celebrates with students after defeating the TCU Horned Frogs at WVU Coliseum. Mandatory Credit: Ben Queen-USA TODAY Sports
Mar 5, 2022; Morgantown, West Virginia, USA; West Virginia Mountaineers forward Jalen Bridges (11) talks to teammates during a foul shot late in the second half against the TCU Horned Frogs at WVU Coliseum. Mandatory Credit: Ben Queen-USA TODAY Sports
Mar 5, 2022; Morgantown, West Virginia, USA; TCU Horned Frogs forward Emanuel Miller (2) looks to pass the ball while being defended by West Virginia Mountaineers forward Gabe Osabuohien (3) during the second half at WVU Coliseum. Mandatory Credit: Ben Queen-USA TODAY Sports
Mar 5, 2022; Morgantown, West Virginia, USA; West Virginia Mountaineers players celebrate with the student section after defeating the TCU Horned Frogs at WVU Coliseum. Mandatory Credit: Ben Queen-USA TODAY Sports
Mar 5, 2022; Morgantown, West Virginia, USA; TCU Horned Frogs head coach Jamie Dixon yells from the sideline during the first half against the West Virginia Mountaineers at WVU Coliseum. Mandatory Credit: Ben Queen-USA TODAY Sports
Mar 5, 2022; Morgantown, West Virginia, USA; West Virginia University student Mary Roush was named the new WVU mascot during the second half against the TCU Horned Frogs at WVU Coliseum. Mandatory Credit: Ben Queen-USA TODAY Sports
Mar 5, 2022; Morgantown, West Virginia, USA; West Virginia Mountaineers guard Malik Curry (10) dribbles between TCU Horned Frogs defenders during the second half at WVU Coliseum. Mandatory Credit: Ben Queen-USA TODAY Sports
Mar 5, 2022; Morgantown, West Virginia, USA; The West Virginia Mountaineers mascot leads in singing "Country Roads" after defeating the TCU Horned Frogs at WVU Coliseum. Mandatory Credit: Ben Queen-USA TODAY Sports
Mar 5, 2022; Morgantown, West Virginia, USA; TCU Horned Frogs head coach Jamie Dixon talks to his players on the floor during the second half against the West Virginia Mountaineers at WVU Coliseum. Mandatory Credit: Ben Queen-USA TODAY Sports
MORGANTOWN, W.Va. — Bob Huggins has been waiting for West Virginia to finish out a game the way he desires the Mountaineers to for better than two months.
The West Virginia coach finally had his wish granted Saturday when the Mountaineers outscored the Horned Frogs 17-5 over the final 6:06 to erase a six-point deficit and win on Senior Day, 70-64. The victory at the Coliseum came before a crowd of 11,324 and allowed West Virginia to end its second seven-game losing streak this season.
"We had a really good, really spirited practice and talked to everybody about how it's a sad day when it's over," Huggins said. "We talked about that and how close we've been, and we just haven't finished. Their message to each other was we're going to finish this one."
TCU (19-11, 8-10 Big 12) never led until 9:44 remaining when a Damion Baugh layup broke a 51-all tie. But when Mike Miles put a jumper through at the 6:27 mark, the Horned Frogs' advantage was 59-53 and it seemed another second-half collapse was in the making for the Mountaineers.
Taz Sherman, who led all players with 25 points in his final home game, answered with a driving layup to start the decisive 17-5 spurt to end the game.
"There wasn't one point in the game where we were lacking energy," Sherman said. "We may have had mistakes, but we had energy."
A second-chance layup from Gabe Osabuohien was followed by Malik Curry's driving bucket, enabling West Virginia (15-16, 4-14) to tie it at 59 with 4:41 remaining,
The contest was knotted at 60 with inside 2 minutes to play when Sherman was fouled after rebounding Baugh's miss from beyond the arc. Sherman made two free throws with 1:47 left, and scored on a drive to the basket after Kedrian Johnson came up with key steal.
"Defensively, we were good," Huggins said. "We haven't done a great job of staying in front of people all year and that's very much what we talked about and drilled in practice leading up to this. They pass, cut and drive, and we had to do a great job staying in front of them, and we did."
With a chance to cut their deficit to one possession, the Horned Frogs got off two shots, but Miles' triple and Chuck O'Bannon's second-chance attempt were both off the mark.
Jalen Bridges then made two free throws to up the Mountaineers' lead to six, and Sean McNeil made 4-of-4 foul shots over the final 11 seconds to put to rest any thought of a last-second TCU rally.
"We brought up that we need to hang together here and finish a game," Huggins said. "Sean makes free throws down the stretch. He didn't have a particularly good game for him, but he gets double figures and he's who I want at the line."
The Mountaineers built a lead as large as 11 in the opening half at 23-12 on Malik Curry's driving bucket.
But after a slow start, TCU found its footing and rattled off 18 of the next 25 points and trimmed WVU's lead to 30-28 on a 3 from Francisco Farabello.
Sherman's triple 1:34 before halftime allowed the Mountaineers to lead by five, and they settled for a 39-33 halftime advantage when Bridges made a jump shot for the final points of the half.
WVU held a 21-14 rebounding edge at halftime after it was manhandled on the glass, 42-24, in a 10-point road loss to TCU last month.
"We were horrible in Fort Worth," Huggins said.
The Horned Frogs got to within 41-40 less than 4 minutes into the second half, but the Mountaineers answered with six straight points, four of which Sherman scored.
WVU then scored only six points over the next 9-plus minutes, allowing the Horned Frogs to overcome their deficit and let doubt creep into the minds of the Mountaineers, who had squandered double-digit leads in the second half in two of their previous three games.
"We played in spurts again, but we found a way to win," McNeil said. "We came back and finished it."
Sherman's 25-point effort came on 9-of-17 shooting, while McNeil, Bridges and Curry added 10 points apiece. Bridges needed only five shots for his 10 points and added five rebounds and a pair of steals.
Osabuohien led WVU with 10 rebounds, while Isaiah Cottrell added seven, all of which came in the opening half. Cottrell played only 33 seconds in the second half.
Pauly Paulicap finished with four points and three rebounds, before diving into the West Virginia student section during the postgame celebration.
"Pauly just gets better with every game," Huggins said. "Gabe was good. We had some guys step up and respond."
Miles' 17 points led TCU. Baugh and Micah Peavy scored 12 apiece in defeat. Baugh's seven rebounds were a team high.
The Mountaineers held a 33-29 rebounding advantage. TCU finished with 18 turnovers, while WVU had 14. The Horned Frogs were playing their seventh game since February 19.
"It's not an excuse," Horned Frogs' head coach Jamie Dixon said. "You have to play either way. We have to play better than than. Eighteen turnovers and we got out-rebounded, so we need to start there. Our decision making was not very good.
"Give them credit for coming out on senior night and playing really well, playing hard, playing physical and taking charges."
WVU honored each of its seven seniors — Sherman, McNeil, Johnson, Osabuohien, Curry, Paulicap and Dimon Carrigan — during pregame festivities.
Only Johnson and McNeil have the option to play another season in college.
"I couldn't tell you," McNeil said when asked if this was his last home game at WVU. "We'll see how this summer goes."
The Mountaineers, the No. 9 seed in next week's Big 12 Tournament, will take on No. 8 Kansas State at 7 p.m. Wednesday for the right to advance to a quarterfinal. WVU and K-State split two regular season meetings, with the home team winning both matchups.